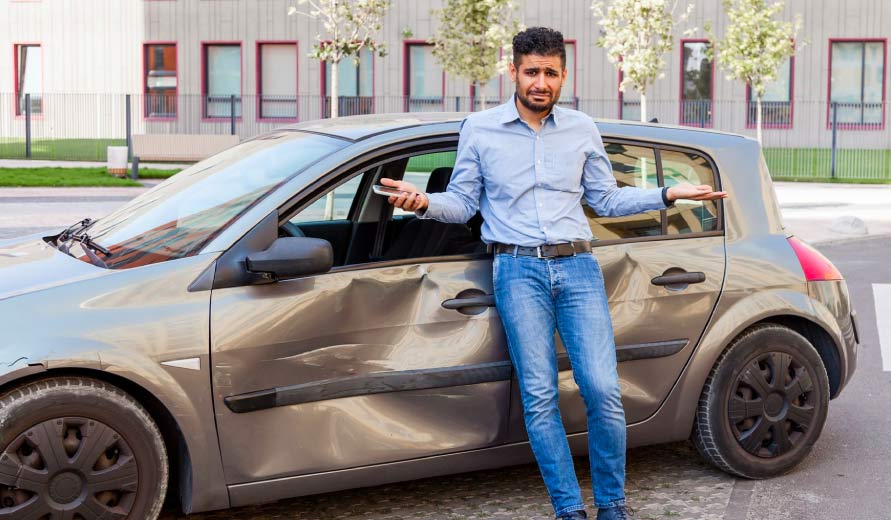 Who buys damaged cars near me? Get damaged car valuation because what happens now that my car is damaged? The majority of individuals are familiar with damaged cars, But if you're the owner, what does it actually mean? When is an automobile considered totaled, and what is its value after that?
Damaged Car Buyers – Who Buys Damaged Cars Near Me?
When an automobile has sustained damage equal to or greater than 75% of its worth, your insurance company classifies it as a "total loss," according to the standard definition of a damaged car. That is what renders a vehicle totaled.
In certain situations, the insurance claims adjuster has determined that damage would be more expensive to fix your vehicle than it would be to simply replace it, thus you are frequently paid the cash market value of your car (less any applicable deductibles and costs) in lieu of being compensated for repairs.
Following that, a few events could occur that would determine what you should do with your damaged vehicle.
How to Sell A Damaged Car - Where Can I Sell My Damaged Car?
The sort of damage doesn't matter as much because whether or not your car is a total loss is assessed by weighing the cost of potential repairs against its existing market worth. Your automobile doesn't necessarily have to be totaled in a severe front-end collision; in some situations, it may even continue to run.
If my airbags deploy, is my car damaged?" is a common misunderstanding. Furthermore, the response isn't always "yes" or "no." Nevertheless, if you want to sell your damaged car, you only have a few simple options, regardless of how the damage was sustained. First, you have two options.
Either choose "owner retention" and keep the car after it has been deemed totaled, or release it to the insurer and accept the full payment. In some circumstances, this might have an impact on your compensation, but the precise facts require consultation with your insurer.
Get Cash for Cars - How to Get Rid Of A Damaged Car Quickly!
It is entirely up to you whether to keep your damaged vehicle, but if you can sell it for more money than the insurance company will pay for it, it might be beneficial.
Use our FREE online car valuation to receive a quick, guaranteed quote for the value of your totaled car. There's no stress and no pressure to buy; you can learn the exact value of your car in just 30 minutes.
We Buy Damaged Cars at CrazyCarCorner!
That is entirely dependent upon the market value of your car and the severity of the damage. The definition of a damaged car varies depending on the make and model, and insurance companies will evaluate the cost of repairs in relation to criteria.
Therefore, a newer, more expensive car that only requires minor repairs won't necessarily be damaged. However, if your car is well past its prime when it is involved in a serious fender bender, it is more likely to be totaled.
How Do You Know if Your Car is Totally Damaged?
Dealerships and individual customers typically don't compete to acquire your junk car, as you can surely understand. The only alternative left is the neighborhood scrap yard, but regardless of whether your car has optional extras or premium upgrades.
They are likely to just give you scrap metal prices. Often, damaged cars still contain valuable components, so by selling your car for scrap, you're essentially throwing away all of its value.
Our professionals at CrazyCarCorner specialize in evaluating, purchasing, and selling totaled cars, salvage cars, wrecked cars, and other difficult-to-sell vehicles. We connect you with a trusted network of junk car buyers who will pay more for high-value components and improvements so you earn a suitable value for your car.
How Much Can I Get for A Used Car?
Most people believe that dividing out your used car is the best course of action if you want to achieve the best price, but this may be quite time-consuming and skill-intensive. To disassemble a modern car, you must first have some basic knowledge of automobiles.
The average modern car has 30,000 different pieces, so if you're not careful, you might potentially damage yourself. The next step is to determine the market price for each valuable component and locate used car buyer. You're carrying out all of this while keeping thousands of parts in storage in your garage and letting a few tons of chassis rust in your driveway.
While the more in-demand components may sell quickly, the rest may remain unsold for several months. At the end of it all, you might even have to pay to have the chassis taken away. Instead, it's frequently quicker—and simpler—to delegate the task to the professionals. You can receive an offer in less than 30 minutes, and we can provide FREE car valuation, as well as immediate payment.
What to Do With A Damaged Car?
Use our online price tool to estimate the worth of your totaled car before accepting reimbursement from the insurance provider. Keep your junk car and sell it through CrazyCarCorner if their estimate of the salvage value of your car is less than our guaranteed estimate.
Since we have been buying totaled, salvaged, and damaged cars for many years, we have established one of the best reputations in the industry by securing the best possible terms for sellers like you for the fair market value of vehicles.
To get started with your free online quotation right away, click HERE.
Tags
Damaged Car
Car Valuation
damaged car valuation
damaged car buyers