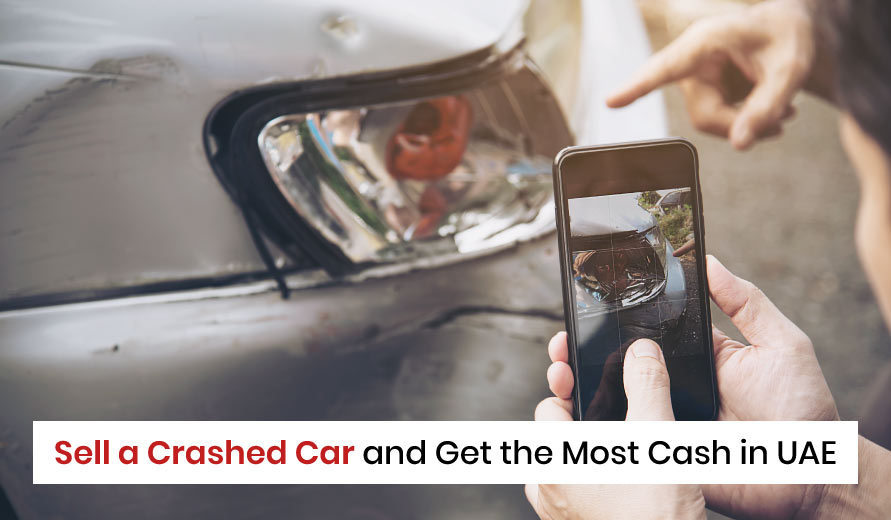 If you want to sell a crashed car and get the most money it needs some effort, but if you have the correct market information for the UAE, you can obtain the top price for your car.
When selling a not working car in the UAE, learn who the buyers are and how to get the most for your money. If you want to sell your old automobile, you should conduct some research on crash car buyers in the UAE.
Selling an old car may be necessary for a variety of reasons, including financial necessity, the purchase of a new vehicle, or the fact that your family requires more transportation. Contacting Crazy Car Corner will still help you earn money, no matter what the reason.
Research Market Values to Sell a Crashed Car!
Do some market research on comparable models, before you begin the process of selling crash cars in the UAE. Look online at car-buying portals, online auctions, and classifieds websites to do this.
To obtain a solid sense of what your make and model are worth in the UAE, you may also visit independent automotive websites. Knowing the value of your car provides you with the upper hand during negotiations.
List Your Car With Relevant Details!
The easiest method to sell your used car for the most money is to carefully describe it and include pertinent information and images. This helps prospective purchasers make the best choice possible by saving them time and effort.
Include facts about your car's make, model, year, mileage, physical condition (including the extent of the damage), and any other pertinent information. Detailed images of the vehicle's exterior and inside should also be included. This will assist you in luring in more serious customers.
Prepare Your Car for Sale & Have a Vehicle History Report Ready!
It's crucial to have your car ready for sale before putting it on the market. This entails receiving a vehicle history report that describes the condition of the vehicle and having all required papers on hand.
Crash car buyers in UAE can learn about any problems or worries they may have with certain car components from the mechanic report. Having information readily available might reassure customers and increase their comfort level when considering buying your damaged car.
Understand the Importance of Negotiation Tactics & Tips!
When selling a car for cash and collecting top dollar in the UAE, negotiating is a crucial step. A good awareness of the local market and prices will help to guarantee you obtain the most value for your automobile, even though trying to acquire the price you desire can be challenging. When necessary, don't be scared to bargain, but make sure you know what strategies to employ before entering a discussion.
Don't Hide Information!
Provide additional information to increase credibility & enhance trustworthiness. It might be difficult and demands some confidence from the individual you're doing business with to sell a damaged car. So make sure to give them any further details they require in order to feel comfortable.
Among other information that increases a seller's trustworthiness, this could include accident reports, readily available records of maintenance, the history of the vehicle, and pictures of the vehicle. Giving this information increases visibility among prospective purchasers who want their inquiries to be answered before they complete their deals.
Finding Right Crash Car Buyers!
The most crucial job is to locate the right crash car buyer. To get people to buy your car, you can use a variety of web services. To sell your car for the greatest money, you can also go to Crazy Car Corner. We have professional used car buyers with years of experience.
However, their prices may be substantially less than what each buyer pays separately. They can negotiate because of this, which is a simple fact. Once you've located a buyer, let them examine the vehicle and choose the price.
Be somewhat flexible with the asking price if you genuinely want to sell your car. Make sure you interact with the buyer directly. It is suggested that you allow the buyer to view your car after you have found one.
Once the buyer is on board, you can proceed to discuss your selling price. Selling your car for the highest possible price is a smart move. Deal-making should take place in person.
Precautions to Be Taken While Selling a Car!
Dealing with those who are willing to meet in person to finish the deal is always advised.
Unless you are doing business with a reputable reseller, it is preferable to accept cash payments rather than postdated checks. Allow the buyer's postdated checks to clear before completing your transfer process if you are accepting them.
Advertise or show nothing on the vehicle since the RTA may punish you. It would be preferable if you requested a small deposit or complete payment from the customer to seal the deal.
To be on the safe side, it is best to have a sales agreement and documentation of the money you have been paid.
Tags
Sell a Crashed Car
Most Cash in UAE