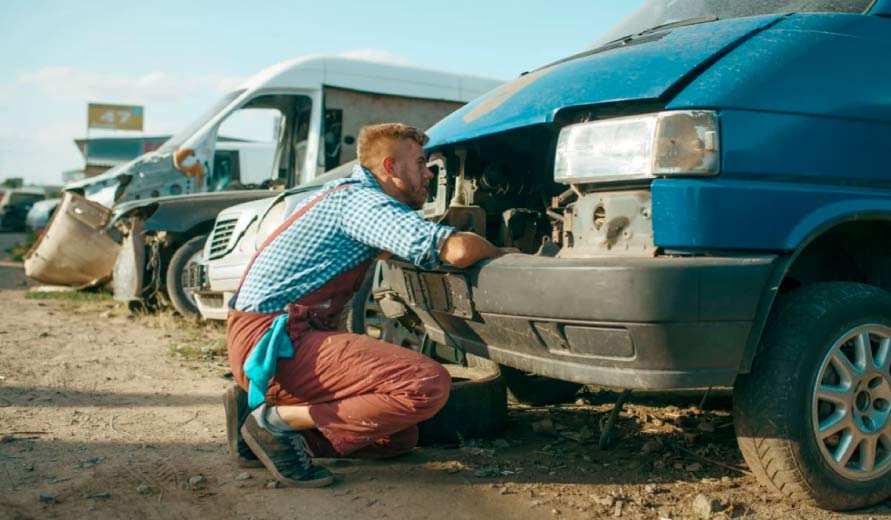 Here's how. With Crazy Car Corner, you may sell a junk car without a title. Get your car evaluated with us right now. Your automobile has been cleaned inside and out, and you have images for your listing; it's ready for sale, but there is a problem. You cannot find your title, but you urgently need to sell your junk car and get a new one.
Don't worry if you're unsure of what to do next or why the title is important in the first place. The majority of times, your title will be required, however, there are a few instances where it won't be. A replacement title can also be acquired far more easily than most people realize.
Why Do Titles Matters to Sell a Junk Car?
A car's title is a document that identifies the true owner and operator of the vehicle. To safeguard you and the buyer from a variety of potentially problematic legal scenarios, titles are required for the sale of an automobile. For instance, without the title, junk car buyers are unable to confirm that the vehicle they are purchasing isn't a stolen one.
In addition, anything that occurs to the car after you sell a car without transferring the title remains your legal obligation. After you've sold your car, if it's abandoned or kept somewhere, you can still be responsible for any fees that accrued during that period.
The ability to sell your car depends on having the title and transferring the title guarantees that the buyer accepts legal responsibility for it. Because of this, you should be suspicious of any prospective buyer who offers to buy without a title since they might be trying to con you.
What are Your Exceptions for Selling Junk Cars?
There are a few particular circumstances in which you could sell your car without a title. Nonetheless, the lack of a title typically necessitates some further measures. For instance, in UAE can sell a junk car without a title as long as they can present supplementary paperwork that they can get from their DMV.
Older automobiles are another important exclusion. If the vehicle is old enough, several states may allow you to sell it without a title. Assume an average age of 15 to 25 years. The actual age your car must be to qualify for this exemption varies from state to state. You can sell a damaged car that is currently parked in your driveway.
The only other situation in which you can sell your car in UAE without having a title in your name is if you have a title but it is in the name of someone else who has authorized you to sell the vehicle.
The majority of the time, but not always, young adults sell the cars that their parents gave them. The title with the signature of the person identified on it is all that is strictly required in this situation, but many car buyers in UAE feel more secure if you provide further proof that you have the authorization to sell the automobile to them.
Getting a Copy of Your Title!
You'll definitely need your title to sell your junk car online if none of these exceptions apply to you. The good news is that it's much simpler than it would seem to get a copy of your book. The majority of regional DMVs now offer the ability to schedule appointments or request documents online, making the procedure more convenient for you.
You'll have to fill out an application, provide some supporting documentation, and wait, on average, seven to ten business days to get your title. The following are the documents you'll probably need to submit:
A duplicate of your license.
A duplicate of your registration.
The vehicle's Vehicle Identification Number (VIN), if you need a title.
The car's registration number.
The title number of the car.
By peering through the driver's side of your windshield, you may see the 17-digit VIN of your car. You may find the title number, which is eight digits long, on your registration.
Sell Your Car to Crazy Car Corner!
You will be prepared to sell your car to Crazy Car Corner now that you have received a copy of your title in the mail. Finding out the value of your car will be the first step in this procedure. You may determine your car's local market and trade-in values using a reliable website. If it's still in good driving condition and hasn't sustained any severe damage.
Nevertheless, we won't be able to provide you with an accurate car valuation if you're selling it because you've been in an accident or it requires too many repairs. Instead, see what comparable vehicles with comparable problems are selling for by visiting online auction sites. Many drivers have historically found it difficult to sell a damaged car since they don't know how to locate a car buyer for a non-operational vehicle. No matter their condition, selling cars is now simpler than ever.
Crazy Car Corner can provide you with a free, guaranteed quote in 30 minutes using just images of your car and its VIN. Only certified buyers in your area are used by us, and our quotes are locked in for seven days. This guarantees that you receive the lowest price possible and that our service is always secure.
Congratulations! In less than two weeks, you sold your old automobile and replaced the lost title.
Tags
Sell a car
sell a junk car
junk car buyers
selling a junk car
Car Valuation
FREE online car valuation