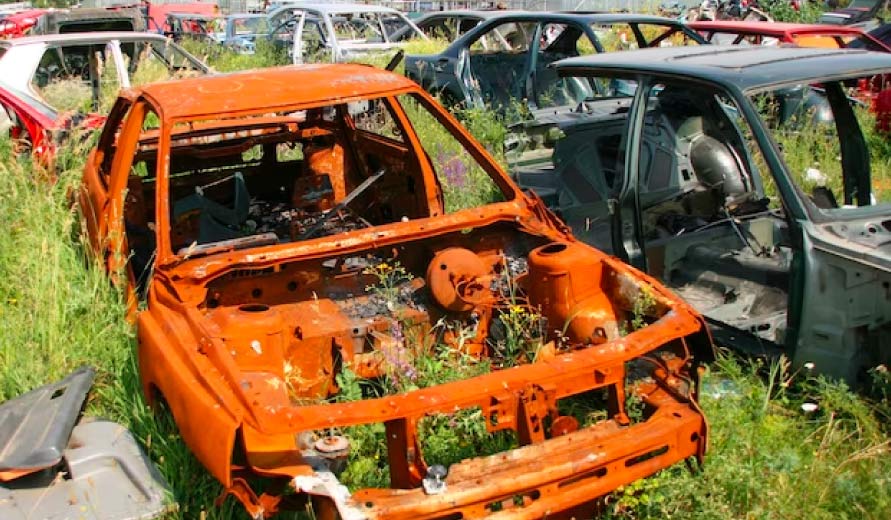 It takes expertise to sell your junk car at the right time. Here CrazyCarCorner.com, we go over how to junk a car and how to know when it's time to part with it.
Is your car ready for the junkyard even though it needs some repairs because it's old? We go into more detail on this topic and provide guidance on when is the time to junk your car below.
When Should You Junk Your Car?
Is your vintage hot rod resembling a pile of metal instead? Perhaps you haven't driven it for a few months out of concern that it will malfunction (again). There are many more indications that your car should be sent to a junkyard, but these are just two that may have you wondering if it's time to take it to the junkyard:
Exorbitant repair costs: Your car may be too expensive to maintain if you've had a serious accident or it's just reached the age where everything needs to be replaced. This is particularly true if the cost of repairs exceeds the car's market value.
Your car is too troubled: It may be time to junk your car if it is being repaired more frequently than it is driven on public roads. It is probably burning a hole in your pocket and isn't doing its job of getting you around reliably.
Nobody wants to purchase: There are lots of people who enjoy fixing up old or broken cars, but yours seems to be going unnoticed for some reason. It might be time to sell your junk car if you have been actively trying to sell it for months and have not received any good offers.
One of the main justifications for junking a car is missing parts, particularly if they're important ones like a transmission or catalytic converter.
Unsafe to drive: Operating a vehicle can be dangerous in certain situations. A car that is unsafe to drive might be ready for the junkyard, whether it's because important parts are too worn out or because an accident seriously damaged some of the vehicle's components.
Extreme rust: Cars don't like rust. Rust in internal components can be costly and dangerous in addition to having a bad exterior appearance.
Totaled: Generally speaking, a totaled car cannot be repaired, and even if it could, doing so might not be financially feasible. Therefore, it might be time to junk your car if it is totaled.
How to Proceed With Car Junking!
Although it may seem simple, there are a lot of steps involved in junking an automobile. This is a detailed explanation of car junking:
Take out of your car any personal items or papers that you may have, such as chargers, car seats, and sunglasses.
Collect all necessary documents, including the registration, insurance, and title of the vehicle.
Remove expensive auto components like the GPS, entertainment system, tires, rims, and catalytic converter if you can so that you can resell them.
Take off your license plate.
Make a note of the details about your car, such as the year, make, model, trim, mileage, and condition.
Look for junk car buyers or visit nearby junkyards; be sure the latter are licensed.
Request quotes from potential trash yards.
Once you've decided on a buyer, schedule a time for pickup.
Finish all necessary documentation.
Ensure that payment is made in cash, not by check.
Notify your insurance provider and the DMV that you have junked your vehicle.
How To Get Rid Of A Junk Car Online?
You can get rid of your junk car online in a few different ways. Selling your junk car online at websites or marketplace is one well-liked strategy. These websites are frequented by buyers who are searching for junk cars to fix up.
But you will have to do a lot of heavy lifting with this method. In addition to getting your car ready for sale, you'll also need to meet with potential buyers, take pictures, and write a listing. This can take a lot of time and be laborious.
Alternatively, you could sell to online scrap car buyers. You can avoid listing by using the numerous online businesses that purchase junk cars. Not all, though, provide excellent prices for used and damaged vehicles.
On the other hand, CrazyCarCorner.com aims to offer the greatest estimate for your vehicle and a simple selling procedure. See below for more information on how we make selling your junk car online easy.
Sell Your Junk Car Online With CrazyCarCorner.com!
You now know that there are alternatives to junking your old, damaged car, one of which is selling it to CrazyCarCorner.com.
In contrast to other online buyers, we take care of everything. This implies that you are not required to obtain quotations from nearby tow truck providers. We will remove your junk car to you. All you need to prepare are your keys and title.
All you need to do is adhere to these easy guidelines:
Input your car's information into our calculator.
Examine your estimate, then click "Accept."
Arrange for the pickup of your car.
When a driver arrives, they will take your car and hand over your check.
You can do the entire process from the comfort of your home, and it takes about 24 to 48 hours to finish.
What is the Best Time to Junk a Car?
When it's time to junk your car, there are a few indicators to look for. First of all, it might be time to discard it if repairs are more expensive than the item's value. Additionally, you can consider it junk if it spends more time in the shop than getting you where you need to go.
When you use the right service, junking your car doesn't have to be expensive. The cost of towing is frequently the most expensive aspect of junking an automobile.
Tags
junk car
Sell Your Junk Car
Junk your car
time to junk your car
junk car buyers
best junk car buyers